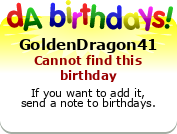 Hello, everyone my name is Saahir Tanksley.
I am a 12 years old boy who does a lot of art. I've been drawing ever since I was four. I mostly like to draw Furries and Monsters and other stuff I like. All comments and faves are appreciated.

[Sometimes I can be really bad at grammar so if my grammars bad I completely apologize]

Criticism is allowed it depends on what level it is.
But don't be an jerk about it.

Friend list:


Really awesome friend and has great art style.


Really kind friend and a big fan of Yoshi.


Kind and fun to RP with.


Really really awesome friend and has a unique art style.


Sweetest girl.


Awesome friend and reptile lover.


Really supportive.


Cool friend and makes awesome fan art.


Really nice and really supportive.

<
/a>